Event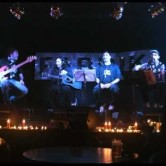 Seattle Sound Tribute 12th edition
Venue:

Fabrik club

Length:

09:00 pm
Appuntamento immancabile per la programmazione del Fabrik, anche quest'anno torna il Seattle Sound Tribute che e' giunto ormai alla dodicesima edizione! formula vincente non si cambia, a nche quest'anno  si svilupperà in due live set: il primo in ELETTRICO E il secondo in ACUSTICO!
Tanti i musicisti che si alterneranno sul nostro palco per rendere omaggio a molte delle bands che hanno fatto parte del movimento grunge:
PEARL JAM – ALICE IN CHIANS – SOUNDGARDEN – NIRVANA – SCREAMING TREES – TEMPLE OF THE DOG – STONE TEMPLE PILOTS e tanti altri!
Prima e dopo il concerto:
Dj set a tema
———————–————————–——-
Ingresso: € 3,00 con tessera CSEN
————————–————————–——-
L'evento SEATTLE SOUND TRIBUTE LIVE e' organizzato da Alessandro Corrias e Cesare Bogazzi in collaborazione con il Fabrik club