Event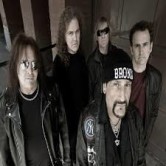 The Dictators NYC
Venue:

Fabrik club

Length:

09:00 pm
Per la prima volta in Sardegna, una delle bands piu' importanti e influenti del protopunk/punk americano e che avete conosciuto come THE DICTATORS !!
La band infatti, a causa di dispute legali, da oggi si chiama MANITOBA NYC ma la line up rimane invariata e vede schierati i due membri originali dei The Dictators Ross the Boss (conosciutissimo anche tra i metalheads di mezzo mondo per essere stato co-fondatore e chitarrista dei Manowar) & Handsome Dick Manitoba (anche singer degli attuali MC5), Daniel Ray (già produttore dei Ramones e chitarra per Ronnie Spector), JP Thunderbolt Patterson (batteria per Manitoba Wild Kingdom e Dictators negli ultimi 20 anni) e Dean Rispler.
Considerati da molti critici e da un esperto di garage rock come Little Steven l'anello mancante tra New York Dolls e Ramones, The Dictators hanno sfornato tre albums seminali per l'evoluzione del punk rock: "Go girl crazy!" del 1975, "Manifest destiny" del 1977 e "Bloodbrothers" del 1979.
I Dictators riassumono suoni e influenze plurime: il beat-pop della british invasion, il garage rock, la surf music, il proto-punk dei New York Dolls, conditi con dei testi ironici e dissacranti.
Inutile dirvi che la scaletta live andrà a pescare in tutto il repertorio della band, motivo in piu' per non perdersi questo concerto!
PREVENDITE ONLINE € 15
PREVENDITE CARTACEE € 15
BIGLIETTI IN CASSA € 20