Event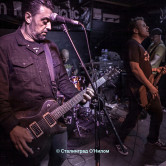 Police Bastard
Venue:

Fabrik club

Length:

22
Police Bastard (UK)
Band Crust / HC + Metal di Birmingham attiva dal 1994 da un idea di John Doom : ( ex DOOM / Sore Throat / Kerrang! Radio etc. ) e altri ex componenti di Filthkick e Contempt.
La band ha pubblicato negli anni svariati album ed e.p. per diverse etichette discografiche tra cui Fight Records (Riistetyt , Kaoos , Tampere SS) e Profane Existence (Nausea , DOOM , U.S.Bombs , Dropdead , Warcollapse , Phobia etc. ) ed ha avuto nella formazione Gizz Butt dei Prodigy e English Dogs .
Attualmente la band comprende :
John Pickering ( ex DOOM / Sore Throat )
Mark Badger:(Iron Man Records / Last Under The Sun) dal 2007
Si Reeves: ( Framework Recording Studio . Last Under The Sun )
Andrea Pisu : (Declaration Of War / Il Disagio etc. )
Police Bastard Discography :
https://www.discogs.com/artist/327875-Police-Bastard
———————————————————————-
NO CARE paladini nostrani del primordiale spirito dell'HC più viscerale e caparbio. I No Care nascono verso la fine dell'estate 2012 mettendo su una band che compone subito dei brani con influenze tipiche hc italiche e NY anni 90.Pochi mesi dopo danno vita al loro primo lavoro e EP omonimo NO CARE.
All'inizio del 2014 pubblicano il primo album The Collapse of World (completamente D.I.Y ) , attualmente dopo vari cambi di line up tornano prepotentemente sul palco mentre lavorano alla chiusura del prossimo imminente EP.
https://www.facebook.com/nocarehc/
———————————————
Ingresso: € 7,00 con tessera Csain