Event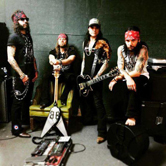 Beasto Blanco
Location:

Cagliari

Venue:

Fabrik

Length:

09:00 pm
Abbiamo il piacere di annunciarvi l'unica data italiana del tour europeo dei BEASTO BLANCO, superband hard rock provenienti dalla California e fondati da
CHUCK GARRIC, bassista di ALICE COOPER, il chitarrista CHRIS LATHAM e la tastierista-vocalist TIFFANY LOWE, già con Alice Cooper stesso, GENITORTURERS e COMBICHRIST.
A completare il combo americano la stessa figlia di Alice Cooper, CALICO COOPER: l'impronta di ALICE COOPER e' ovunque, e forte è il richiamo a lui anche nel sound della band seppur piu' "moderno": un hard rock carichissimo, suonato impeccabilmente, fortemente teatrale ed orecchiabile ed uno show live emozionante e coinvolgente!
Perderselo sarebbe un peccato per tutti gli amanti dell'hard rock – rock'n'roll made in USA !
www.beastoblanco.com
https://www.facebook.com/BeastoBlanco/?fref=ts
———————————————————————————–
Ad aprire la serata saranno i DIRT TRAXX da Sassari (r'n'r) e i DE' STOP da Cagliari, gia visti in azione da poco sul palco del Fabrik!
https://www.facebook.com/DirtTraxxOfficial/?fref=ts
www.destop.net
https://www.facebook.com/destopband/?fref=ts
———————————————————————————–
Ingresso: € 10,00
———————————————————————————–
PRAISE FOR BEASTO BLANCO:
Alice Cooper
"Chuck Garric is one of those seemingly dangerous and elusive figures who is always doing something cutting edge behind closed doors. Always writing, creating, destroying…who knows what else. He's a man of many talents and as expected, Chuck's new band Beasto Blanco has really hooked me. It may come as a shock to you, but I love rock with an edge… And the video for "Breakdown" has an edge like a switchblade."
Johnny Depp
"What an honor to hear something as beastly and killer as this!!! It's truly, truly great and wonderfully kind of life affirming! Makes one feel ownership of their being!"
Eric Singer (KISS Drummer)
"Beasto Blanco puts Chuck Garric in his natural setting. Hitting hard and crushing all who step in his path!"
Mikkey Dee (Motorhead Drummer)
"LIVE FAST DIE LOUD" is a real ass-kicker and I wouldn't expect anything less when Chuck is at the forefront, keep slammin!
Katherine Turman (Music journalist)
"Beasto Blanco's "Breakdown' is an awesomely dirty, pedal-to-the-metal rocker. With industrial-tinged beats, propulsive energy, slick guitar solos, cool choruses and nasty-girly backup vocals, fans of classic rock and metal will worship 'Breakdown' and its equally dark and sexy".
Dare I say: "Unleash-o the Beasto?"
Bob Ezrin (Producer)
"Chuck Garric is modern day monster, one of the most talented and heaviest rock musicians I've ever worked with!"
www.beastoblanco.com
www.twitter.com/beastoblanco
www.facebook.com/beastoblanco
www.youtube.com/beastotv