Event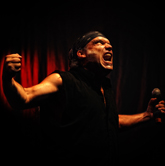 Blaze Bayley
Venue:

Fabrik

Length:

10:00 pm
Blaze Bayley was born as Bayley Alexander Cooke on 29th May 1963 in Birmingham, England. He is an English singer and songwriter.
He started his professional music career as lead vocalist of WOLFSBANE in 1984. They released 4 studio albums and a live one together.
When Bruce Dickinson left IRON MAIDEN in 1993, Blaze was chosen as his replacement in 1994. His departure from Wolfsbane led to their disbandment later on that year. Blaze recorded two albums with IRON MAIDEN.
In February 1999, when IRON MAIDEN announced that vocalist Bruce Dickinson was returning to the band, Blaze started his solo career.
He formed his own band, BLAZE, in March 1999. In May 2000 the debut album "Silicon Messiah" was released, followed up by "Tenth Dimension" in 2003 and "Blood And Belief" in 2005. In 2003 the band also recorded the live CD "As Live As It Gets".
Due to some changes in the lineup and management Blaze opted to rename the band under his full name, BLAZE BAYLEY and make a new start. In February 2007, the Blaze Bayley Band got back on stage with recording the live DVD album "Alive in Poland". In July 2008, the Blaze Bayley Band released their debut studio album, "The Man Who Would Not Die". The band recorded another CD/DVD live at Z7, "The Night That Will Not Die", which was released in March 2009. The second studio album "Promise and Terror" was released in February 2010.
Wolfsbane reformed and released a new album "Wolfsbane saved the world". The band is still touring at festivals and in the United Kingdom.
In March 2011, Blaze decided to continue as a solo artist, working together with different musicians. He produced a new album "The King Of Metal" in March 2012, written with Thomas Zwijsen and recorded by Blaze Bayley, Thomas Zwijsen, Claudio Tirincanti, Andrea Neri and Lehmann. They toured together in Europe to promote the album. On this tour, the idea rose to record an acoustic EP with Thomas Zwijsen. "Russian Holiday" was released in February 2013, followed by a European and South American Tour.
During these productions and tours, he managed to record guestvocals for different bands and performed several shows worldwide with Paul Di'Anno. These shows brought him for the first time to Australia in 2012.
As he started almost 30 years ago, Blaze Bayley to celebrate this birthday and has planned to release a compilation album called "Soundtracks Of My Life", containing 30 recordings that were important to him and his career. He will tour worldwide in 2014 to promote this album.