Event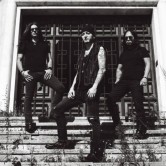 Forgotten Tomb
Venue:

Fabrik club

Length:

09:00 pm
I Forgotten Tomb ritornano in Sardegna
Sabato 18 maggio 2019 il Doom Over Karalis porterà sul palco del Live Club FABRIK (Cagliari) la storica band Black Doom Metal.
I Forgotten Tomb, nati a Piacenza nel 1999 dalla mente del leader Ferdinando "Herr Morbid" Marchisio, sono considerati tra i pionieri del depressive black metal e hanno all'attivo 8 album, l'ultimo dei quali "We Owe You Nothing" è uscito nel 2017 (Agonia Records).
Nel loro curriculum vantano numerose partecipazioni a festisval internazionali di livello, tra cui, volendo segnalare i più recenti, Roadburn Festival 2018, Madrid is the Dark 2018, Metalitalia.com Festival 2018.
Sul palco del Fabrik, in apertura ci saranno Ilienses Tree (Doom Metal) con il loro ultimo EP "Edda" (Maculata Anima Rec, 2017) e Acts Of Tragedy (Post-Hardcore Metal) con il loro ultimo LP "Left with Nothing" (Memorial Records, 2017).
ORARI:
20,30 – Apertura porte
21,00 – inizio concerti
TICKET:
€ 10 (Prevendita*, anche all'ingresso sino alle h 21:00)
€ 12 (All'ingresso, dopo le h 21:00)
*Prevendite disponibili presso:
Bodie Art, Via San Giovanni 254, Cagliari
https://www.facebook.com/BodieArt/
LINE UP:
FORGOTTEN TOMB
https://www.facebook.com/Official.Forgotten.Tomb/
ILIENSES TREE
https://www.facebook.com/iliensestree
ACTS OF TRAGEDY
https://www.facebook.com/actsoftragedyband/
INFO:
https://www.facebook.com/DoomOverKaralis/
https://www.facebook.com/FabrikLiveclub/